PAT Test Rogues
How to Spot a Rogue
How does the organisation prove competence of its engineers.?
Is the organisation accredited to any of the approved accreditation bodies NAPIT, NICEIC etc.?
Does the organisation provide any mechanisms for quality control?.
Appliances on fused spurs - have they been labelled as tested? - Whilst it is possible to test these, we would recommend that they be undertaken during a Fixed wiring Inspection. If they have been tested during your PAT regime, did the engineer ask where the distribution panel was , did they isolate the power to the fused spur appliance? if not then they weren't tested properly.
Does the engineer appear to be moving rather quickly through your building. On average we have found approx 20 appliances per hour can be tested in an occupied office environment.
Manufacturers should be standardising fuse and flex sizes to 0.5mm and 1.25mm(3A and 13A fuse protection respectively). However many items currently in use still have 0.75mm and 1.00mm supply flexes. Have your fuses been changed to the appropriate size? Does the engineer carry around a supply of different size fuses? This is probably one of the most common and easiest to spot rogue practices. The number of contracts won by JPS that still require 100's of fuses to be changed is quite staggering. A standard computer or printer will be supplied with either a 0.75mm csa or 1.00mm csa flex requiring 5A or 10A fuse protection respectively. Just because an organisation says it changes fuses to the appropriate rating doesn't always mean they do. Check that the engineer has a plentiful supply of spare fuses with him, if he doesn't carry them on his person whilst performing the testing chances are they are not being changed, after all it wouldn't make much sense to have to run to the van for a spare fuse every time one was required.
Have you had the buy 3 get 2 offer that is now all too commonplace. Equipment such as laptops do not require any electrical testing. This type of appliance requires two tests , one for the mains lead and one for the transformer. If you have a PASS label on your laptop also then you have had the 3 for 2 offer, paid for 3 actually only required 2.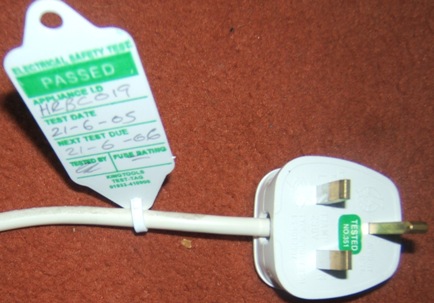 Above we can quite clearly see an appliance which has passed its PAT test however the tested label on the plug is still intact quite clearly indicating that the plug has never been opened. The visual inspection requires that plugs are opened, terminals checked for tightness, fuse rating checked and polarity of wiring is correct.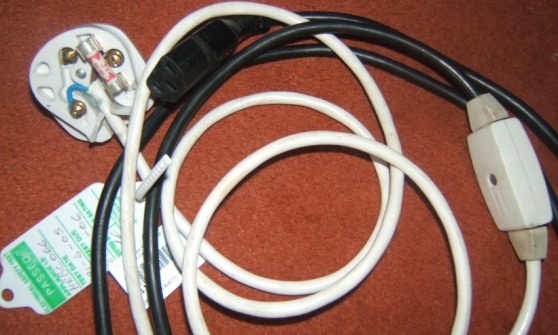 Above we can see a flex which has passed its PAT test. However this flex was supplying a Class1 appliance which requires an earth connection. Irrespective of this point this flex should have failed anyway because it is detachable and could be moved to supply a Class1 Appliance. Quite clearly there is No Earth connection.
In the next few months JPS will be listing on this page companies who are thought to be operating out with the IEE Code of Practice. Suspect organisations will be contacted with our lists of suspicions. Links will be provided to the letters sent to the suspect organisations and also to their replies.
Rogue Traders Be Warned You will be Identified.
Should you think you have been subject to a Rogue Trader JPS now offer a PAT Test quality control service to address your concerns.
JPS Calibration Services Ltd
13 St Giles Close
Wendlebury
Bicester
Oxfordshire
UK
OX25 2PZ
Tel +44 (0)845 17025 00
Fax +44 (0)845 17025 01
email enquiries@JPS-Cal.co.uk
Copyright (c) 2005 JPS Calibration Services Ltd
web design by Web Initial